Award winning private golf course in Payson, Arizona.

Take A Swing At
the Rim Golf Club
The Rim Golf Course provides a unique golfing experience unparalleled by any other. With Payson's temperate climate, golf enthusiasts can indulge in year-round golfing and savor the true versatility of four-season play. Set amidst majestic ponderosa pines, boasting breathtaking vistas, and adorned with awe-inspiring rock formations, the course is a masterpiece crafted by the esteemed collaboration of Tom Weiskopf and Jay Morrish, designed to championship standards.
Ranked #1 – Golf Week Magazine Best Golf Community West of the Carolinas (2014)
Ranked #2 – Golf Week's Best Residential Golf Courses in Arizona (2017)
Ranked #9 – Golf Digest's Top Venues in Arizona (2015-2016)
Ranked #16 – Golf Week's Best Residential Golf Courses in America (2017)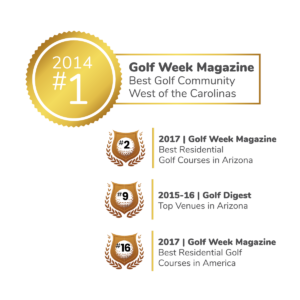 Nestled at an elevation of 5000 feet, The Rim presents an exhilarating golfing experience suitable for all skill levels. This stunning course spans 5,200 to 7,200 yards, meandering through lush forested fairways woven among dramatic rock outcroppings and the largest grove of Ponderosa pines in the nation. The strategic challenge of the hazards is further enhanced by the natural elevations and native vegetation, with water hazards coming into play on six holes. The real highlight, however, is the awe-inspiring panoramic vistas of the Rim Country that adorn every hole, offering breathtaking views of the surrounding mountains and forests.
At The Rim, playability is paramount, reflecting the design philosophy of renowned golf architects Tom Weiskopf and Jay Morrish. According to their principles, a great golf course must be enjoyable for players of all levels, offering a fair yet challenging experience that rewards well-planned and executed shots. The Rim embodies this philosophy in its entirety, representing the final and ultimate collaboration of Weiskopf and Morrish. Weiskopf himself has lauded The Rim's holes 7 through 18 as "the twelve finest consecutive holes" they ever designed.
Your personal golf experience at The Rim is tailored to your interests and skills. With various weekly golf play days for men and women, it's easy to meet other golfers and make new friends. Alternatively, the professional golf staff can connect you with members of similar playing levels. Tee times can be easily reserved up to two weeks in advance through the online tee sheet.
The practice facility at The Rim opens an hour before the first tee time and remains accessible throughout the day. You can refine your skills at the driving range, sand bunkers, or chipping area, and work on your putting at the 9-hole putting course. As you perfect your wedge shots, you can bask in the clear blue skies and fresh air, occasionally catching a glimpse of bald eagles soaring above the club, adding to the majestic ambiance of this exceptional golfing destination.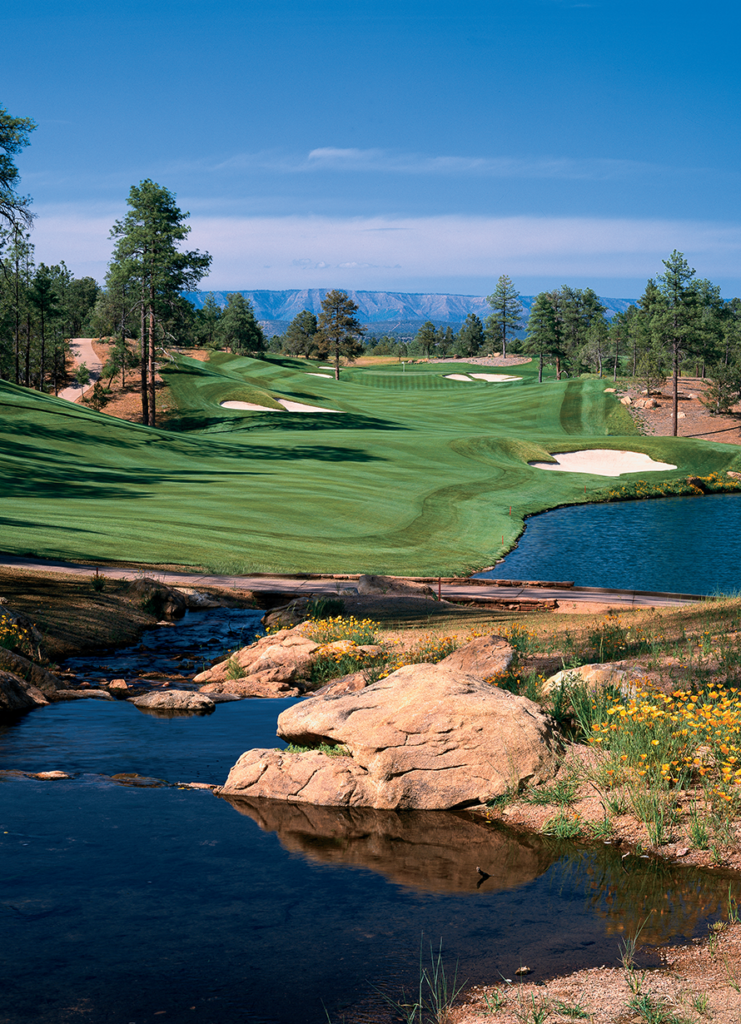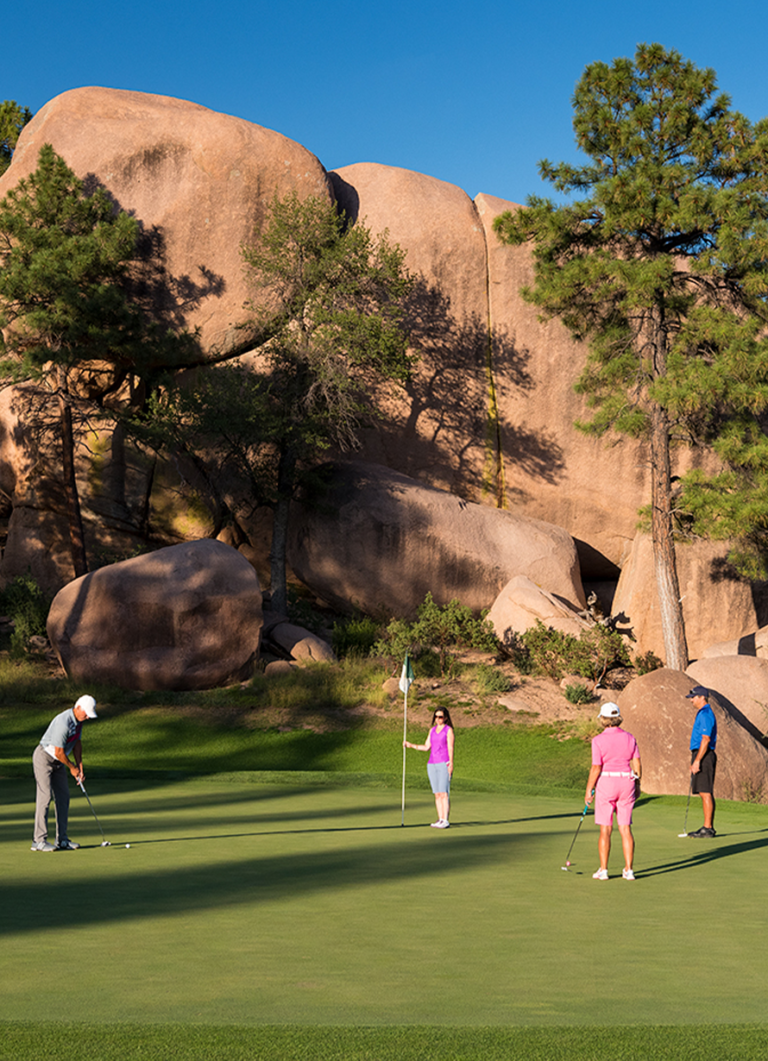 If you thrive on competition, you'll find ample opportunities to challenge yourself throughout the year at The Rim Club. From casual holiday tournaments to interclub play to our prestigious men's, women's, and couples' club championships, there's something for everyone at all skill levels.
During the summer season, our highly anticipated men's invitational, The Showdown, and women's invitational, The Challenge in the Pines, take center stage. These events offer a perfect chance to share the warmth of Rim Club hospitality with your favorite golf buddy, while forging new friendships that will last a lifetime.
If you enjoy playing with your spouse, we've got you covered. On Sundays, the first hour of tee times is reserved exclusively for twosomes, allowing you to spend quality time together while navigating the course at your own pace. With stunning scenery and the gentle rustling of pine trees in the background, it's an experience to cherish.
At The Rim Club, we understand that some members relish the opportunity to walk the golf course, breathing in the fresh air and taking in the beautiful scenery. Many of our members choose to walk every time they play. However, if you prefer the convenience of a golf cart, we offer daily cart rentals and annual cart rental plans. Once you become a resident, you may also consider purchasing your own cart, which is a preferred mode of transportation within our private gates. Plus, with our trail fee packages, you can enjoy unlimited golf and use of your private cart.